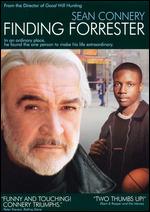 Finding Forrester
Gus Van Sant (director)
DVD/Video 2000 Sony Pictures Entertainment
Plot Synopsis:
In the spirit of his Oscar-winning Good Will Hunting, Gus Van Sant directs this tale of the unlikely bond that develops between an aging, reclusive novelist named Forrester (Sean Connery) — who hasn't written anything since winning a Pulitzer Prize decades earlier — and Jamal (Rob Brown), a 16-year-old with a hidden desire to be a writer. When Jamal is cited for his athleticism in basketball by an elite Manhattan prep school, he is forced to adapt to an environment far from his South Bronx upbringing, and a small mishap leads him to the eccentric, uneasy Forrester. After their initial apprehension of each other, they begin to fuel each other's fire for writing, and become unlikely friends despite their ages and backgrounds. Forrester's devotion to Jamal becomes enhanced when he must defend allegations of plagiarism enforced by Professor Crawford (F. Murray Abraham), jeopardizing Jamal's future. The film also features Anna Paquin, Busta Rhymes, and Zane Copeland Jr.. — Jason Clark
Cast:
Sean Connery - William Forrester
Rob Brown - Jamal Wallace
F. Murray Abraham - Professor Crawford
Anna Paquin - Claire
Busta Rhymes - Terrell
April Grace - Ms. Joyce
Matt Damon - cameo appearance
Michael Nouri - Dr. Spence

Credits:
Gus Van Sant - Director
Sean Connery - Producer
Laurence Mark - Producer
Rhonda Tollefson - Producer
Mike Rich - Screenwriter
Harris Savides - Cinematographer
Valdis Oskarsdottir - Editor
Jane Musky - Production Designer
Darrell K. Keister - Art Director
Jonathan King - Executive Producer
Dany Wolf - Executive Producer
Ann Roth - Costume Designer
Susan Tyson - Set Decorator / Set Designer
David Webb - First Assistant Director
Brian Miksis - Sound/Sound Designer
Francine Maisler - Casting
Bernie Telsey - Casting
David Vaccari - Casting
Bill Frisell - Music
Collin Walcott - sitar on Miles Davis tracks originally recorded for the CD On The Corner.